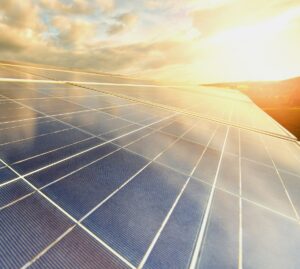 ECT Develops Cost-Effective Strategies for Solar Power Generation Facilities Nationwide
Solar power companies rely on ECT, to obtain regulatory approval for new generation facilities in a timely and economical manner because ECT is distinctly qualified to provide the combination of specialized technical expertise, regulatory understanding and the business skills to reliably deliver results.
These capabilities have enabled ECT to become a resource for developing cost-effective strategies for hundreds of new solar power generation facilities nationwide.
As part of ECT's extensive solar power experience, we provide the following specific services:
Feasibility studies & land use planning
Due diligence/fatal flaw analyses/critical issues analyses
Natural resource surveys (e.g., wetlands, threatened & endangered (T/E) species)
Federal, state & local permitting
Environmental assessments (EA) & impact statement (EIS) preparation
Visual impact assessments
Public outreach
Environmental monitoring during construction
Post-construction operational support
ECT can provide issue identification and a permit requirement matrix to facilitate the evaluation of potential solar sites for development. ECT's certified land use planners analyze land use and zoning compatibility of proposed sites. Impacts to infrastructure, surrounding land uses and the local environment to support power developers in obtaining local approvals. ECT also helps clients devise and implement public outreach programs commensurate with the project's complexity and anticipated level of support.
DUE DILIGENCE & SITE SURVEYS
ECT evaluates sites under consideration for lease or purchase by performing due diligence assessments on specific parcels. This is usually done after property identification as a potential site, but before the lease or purchase agreement is completed and permitting begins. Site due diligence efforts identify potential environmental and land use issues. ECT completes preliminary site assessments, environmental site assessments (ESAs), impact analyses, wetland delineations and T/E species surveys. Each evaluation addresses ecological resources, land use-related characteristics and archeological/cultural resources. The presence or absence of these resources can impact project development costs, permitting feasibility and time frames.
FEASIBILITY STUDIES & LAND USE PLANNING
For decades ECT's power generation permitting expertise has been built around finding appropriate sites for our clients' specific generation needs. For or solar siting, ECT staff uses multiple GIS-based tools for site selection. These models, in conjunction with aerial mapping, property databases and our extensive in-house library of GIS data layers, help identify sites with consideration for infrastructure needs, location and environmental and land-use constraints.
LICENSING & PERMITTING SERVICES
Certain states have major licensing requirements for solar facilities. ECT has successfully licensed solar facilities through some of the most rigorous federal, state, and local permitting processes in the country, keeping projects on-schedule.
OPERATIONAL COMPLIANCE SUPPORT
ECT assists power-sector clients with construction monitoring, post-construction, operational support, including development of stormwater management plans and spill prevention, control and countermeasure (SPCC) plans. ECT also uses environmental asset compliance management system (EACMS), an in-house data management and compliance tool, to assist clients with multiple assets with meeting regulatory deadlines. EACMS is a GIS- and web-based compliance tool that enables the user to conduct inspections, access data and facilitate meeting regulatory deadlines while in the field. Management of a single facility can be difficult. Management of numerous facilities offers significant challenges. EACMS reduces those challenges.
200 + Solar Site Projects Nationwide
100 +Licensing & Permitting Projects
3-4  Gigawatts Affiliated with Nationally
40+ Operational Compliance Support Projects
80+ Due Diligence & Site Survey Projects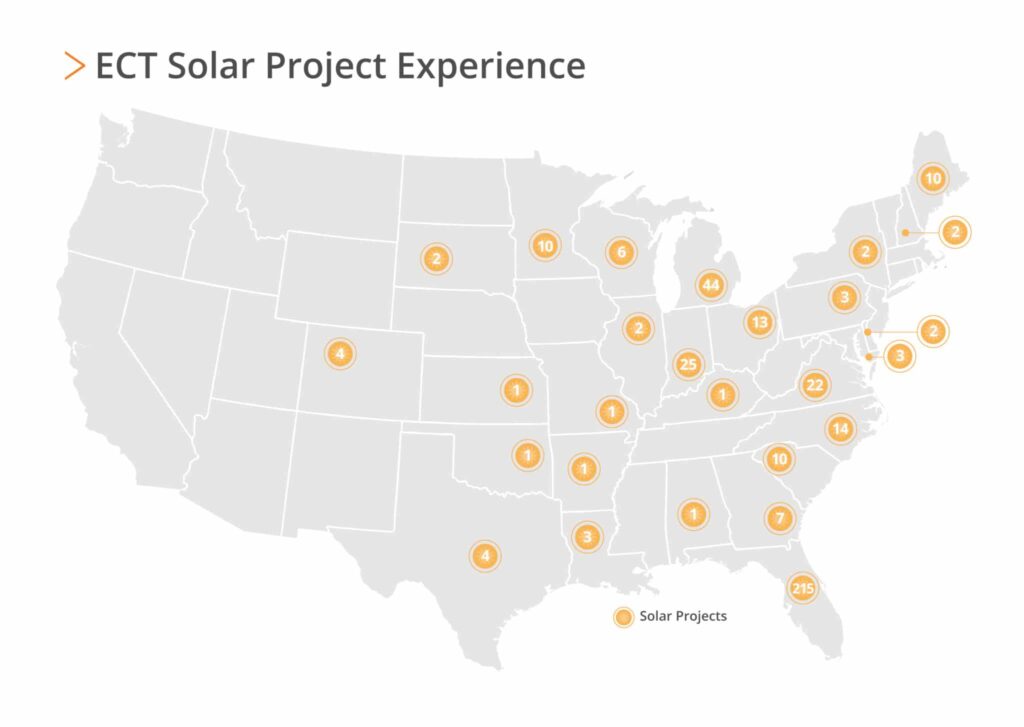 Click the button to Request Solar Services.