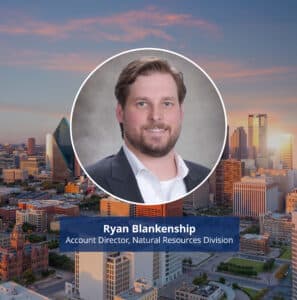 Accomplished Dallas-based consultant expands existing Texas presence
August 29, 2023 (Dallas-Fort Worth) – Environmental Consulting & Technology, Inc. (ECT) announces the hiring of Ryan Blankenship to its natural resources division. Working from the Dallas-Fort Worth (DFW) Metroplex, Ryan joins as a director serving clients throughout Texas and the Red River region, as well as key markets in the Central and Western U.S.
"We are fortunate that Ryan chose to join ECT at such an exciting time," said Natural Resources Managing Director Tom Stanko. "He works fluidly between client, project, and regulatory environments – exactly what's needed as we expand our capabilities and reach."
In this role, Ryan will develop new client opportunities across both power and energy and land development markets. He will also contribute to regional growth through his consulting expertise, including his credentials as a U.S. Fish and Wildlife permitted biologist for nearly a dozen species, and through long-standing, quality relationships and project resume in the DFW and greater Gulf Coast region.
As a Certified Wildlife Biologist (CWB®) with a background in wildlife conservation and management, Ryan's specific expertise includes Endangered Species Act compliance, Clean Water (Section 401/402/404) Act permitting, and National Environmental Protection Act (NEPA) clearances. Ryan also contributes in-depth understanding to a range of natural resource assessment and surveys, including species habitat assessments, threatened and endangered species-specific surveys, migratory bird treaty act compliance, and wetland delineations.
Ryan joins Texas colleagues in both the Austin, Houston, and San Antonio markets, as well as a national team focused on progressive ecological consulting, rare and protected species, cultural resource management, permitting strategies, and construction support for power and energy, land development, and public-sector clients nationwide.
Prior to joining ECT, Ryan worked for several notable consulting firms as well as the Texas Parks and Wildlife Department. He holds his master's degree in Conservation Biology from the University of New South Wales as well as his bachelor's degree in Wildlife and Fisheries Science from Texas A&M University.