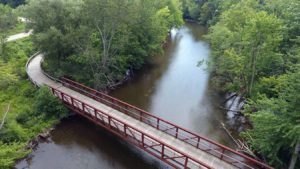 ECT's Patrick Judd, PLA, manages this project and leads the overall design process. He works closely with ECT's Matt Carmer, PWS, CWB, who is assessing habitats for threatened and endangered species along two segments of the trail, including Zeeb Road and Huron River Drive D2. Judd is a Professional Landscape Architect and part of ECT's Water Resources service line. Carmer is a Professional Wetland Scientist and Certified Wildlife Biologist and part of ECT's Natural Resources service line.
"The scenic Huron River Valley is a genuinely admired landscape setting and greatly appreciated resource by the residents and visitors of Washtenaw County," said Project Manager Patrick Judd. "ECT is proud to provide thoughtful design services for a desirable destination project that considers the local ecology, cultural history and environmental protection for recreational benefits."
The project is funded by Washtenaw County Parks and Recreation Commission, Washtenaw County Road Commission, Department of Natural Resources, the Ralph C. Wilson, Jr. Foundation, St. Joseph Mercy Health System, and more than 1200 donors.
"These trails and carefully thought out initiative are being managed by the Michigan Department of Natural Resources. The Iron Belle trail in Michigan, for example, will connect Ironwood in Upper Peninsula and Belle Isle State Park in Detroit. When complete, these trails will connect 48 counties and 240 townships. The 1,204-mile hiking trail will be the longest state-designated trail in the nation," said ECT Vice President and Water Resources National Director Sanjiv Sinha, Ph.D., P.E. "ECT is delighted to help connect citizens with the wonder of the outdoors."
The Huron River Drive D2 segment is expected to be complete in November 2019.