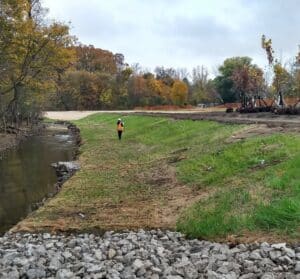 December 15, 2022 – The U.S. Environmental Protection Agency highlighted ongoing progress of nine habitat restoration projects in the Rouge River Area of Concern in Michigan.  Led by our Ecosystem Restoration Team Leader John O'Meara, ECT provided ecosystem restoration design/oversight support for all nine of the projects listed, including:
Nankin Lake Restoration (Livonia) – Restored 2 acres of habitat 
Lola Valley Park Wetlands (Redford Township) – Created and restored 13 acres of wetland and riparian habitat
Bell Creek Park Wetland (Redford Township) – Created 2.6 acres of meadow wetland and restored 6.45 acres of wetland
Sherwood Park Wetland (Westland) – Restored 7 acres of habitat
Colonial Park Wetlands Habitat Restoration (Inkster) – Restored 7 acres of habitat 
Venoy Dorsey Park Habitat Restoration (Inkster and Westland) – 9.8 acres of habitat restored or created
Tamarack Creek Stream and Wetland Project (Southfield) – Restored 2.2 acres of wetlands and 1,950 feet of stream corridor
Johnson Creek Fish Hatchery Park Habitat (Northville) – Restored 1,250 linear feet of streambank and 0.5 acres of habitat
Rouge Oxbow Project Phase III (Dearborn) – Connected and restored 2,700 linear feet of Oxbow Wetland and 0.4 acres of new habitat
The Rouge River watershed is the most heavily populated and industrialized area in southeast Michigan, which has contributed to the degradation of natural habitat and high levels of contamination in the river's sediments.
Funding from the Great Lakes Restoration Initiative and the Bipartisan Infrastructure Law and collaboration between EPA's state, local, and other federal partners facilitated the implementation of these nine habitat restoration projects (that have completed or will be completed soon) at a total cost of approximately $12.7 million.