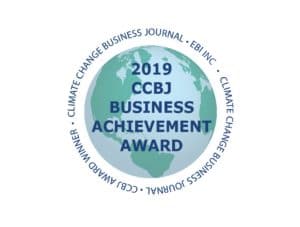 February 5, 2020 (San Diego, California) — Each year Climate Change Business Journal (CCBJ) recognizes outstanding business performance in the climate change industry with CCBJ Business Achievement Awards.
We are pleased to announce that ECT received the 2019 CCBJ award for Advancing Best Practices: Green Stormwater Infrastructure (GSI) for implementing new approaches to the funding and construction of GSI.
Funded by the Great Lakes Protection Fund, ECT is leading a team of innovators, including Rhode Island-based Corvias and Washington, D.C., based Quantified Ventures, to bring new approaches to funding and constructing GSI. Working with the Milwaukee Metropolitan Sewerage District, the team has already helped execute one transaction for an ambitious, $20 million community-based GSI partnership (CBGSI).
Led by ECT SVP Sanjiv Sinha, Ph.D., P.E., the team is now working on two potential environmental impact bond (EIB) transactions – one in the Greater Buffalo region, New York, and one in Hudson, Ohio. These transactions are among the first ten CBGSI or EIB transactions in the country and could result in cumulative investments of more than $50 million in distributed GSI. Similar market-based transactions are expected to herald a new era in the use of private finance/delivery and pay-for-performance concepts in projects that directly address climate resiliency needs.
The 2019 CCBJ awards were presented virtually on Friday, September 11, 2020.
About the CCBJ Business Achievement Awards
In October-December 2019, Climate Change Business Journal solicited nominations for the EBJ Business Achievement Awards. Nominations were accepted in 200-word essays in either specific or unspecified categories. Final awards were determined by a committee of CCBJ staff and CCBJ editorial advisory board members. (Disclaimer: company audits were not conducted to verify information or claims submitted with nominations.)
About EBI
Founded in 1988, Environmental Business International Inc. (EBI, San Diego, Calif.) is a research, publishing and consulting company that specializes in defining emerging markets and generating strategic market intelligence for companies, investors and policymakers. EBI publishes Environmental Business Journal®, the leading provider of strategic information for the environmental industry, and Climate Change Business Journal®, which covers nine segments of the Climate Change Industry. EBI also performs contract research for the government and private sector and founded the Environmental Industry Summit, an annual three-day event for executives in the environmental industry.