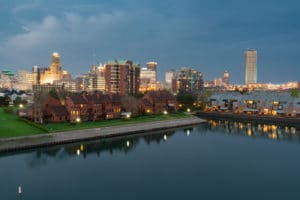 City of Buffalo Mayor Byron W. Brown announced during his 14th State of the City address that Buffalo Sewer Authority will work to launch the country's largest environmental impact bond (EIB). EIBs offer a novel approach to fund high-impact green infrastructure projects. Notably, the $30 million EIB will enable Buffalo Sewer Authority to use green infrastructure to manage more than 500 acres of impervious surface reducing combined sewer overflows.
The City of Buffalo and the Buffalo Sewer Authority were selected as winners of the Great Lakes Great Stormwater Infrastructure Challenge through the P3GreatLakes Initiative, a Great Lakes Protection Fund project that Environmental Consulting & Technology, Inc. (ECT), has been leading since 2016. Visit www.p3greatlakes.org for more information. Team members include Quantified Ventures, LLC (QV), that provide advisory support for EIB structuring.
Supported by the Ralph C. Wilson, Jr. Foundation and the Community Foundation of Greater Buffalo, ECT and QV will assist the Buffalo Sewer Authority to create a public-private, and philanthropic partnership to tackle Buffalo's stormwater challenge, ensure that the waterways are protected, and guarantee a more resilient Buffalo.