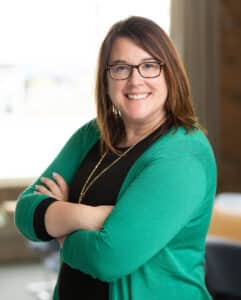 ECT President and CEO honored for her impact on Michigan's energy landscape
July 24, 2023 (DETROIT) – Environmental Consulting & Technology, Inc. (ECT) celebrates the inclusion of President and CEO Bobbi Westerby on the 2023 Notable Leaders in Energy list, published today by Crain's Detroit Business. The list recognizes regional professionals for their positive impact in the energy space, as well as their role as change agents, advocates, and champions of the industry and its progress.
In Westerby's current role, she is responsible for ongoing project delivery within the developing renewable energy markets of the Great Lakes, Central, and Southeast regions. Her successes add to the firm's 30-year tradition of progressive, science-based consulting solutions for power and energy generation, transmission, and distribution clients.
As a Michigan biologist, project manager, and industry leader within the renewable and broader energy sector, Westerby's career is represented by some of the earliest wind energy projects in the state including Isabella Wind – one of the largest renewable energy projects ever built in Michigan.
Less visible are her decades of effort to also network and attract renewable developers and operations to the state. Similarly, she has spearheaded efforts with rural communities, including those in her native Tuscola County, to rethink existing government and ordinances to capitalize on the socioeconomic and environmental benefits.
As wind and solar projects have flourished throughout the state, Westerby's support of the Michigan Thumb Loop, a regional capital project providing 140 miles of connective transmission infrastructure, has proved instrumental in making the renewable energy revolution a reality for the state.
"When I saw the opportunity to recognize a true leader in energy, I knew it had Bobbi's name all over it," said Michelle Fallscheer, Senior Director of Leadership and Planned Giving at University of Michigan-Dearborn and the colleague who nominated Bobbi for the recognition. "As an alumna, she is an inspiration to our student body, sharing her time to educate on topics from renewable energy to business leadership, as well as diversity and inclusion."
To learn more about Bobbi and the other 2023 Notable Leaders in Energy, including those from Consumers Energy, DTE Energy, ITC Holdings and Jones Lang LaSalle, click here.