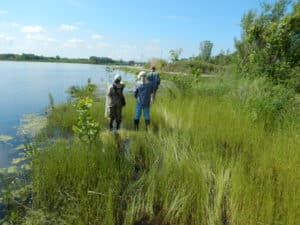 The Western Dredging Association (WEDA) presented the 2019 Environmental Excellence Award to the remediation and restoration team for the Former Zephyr Refinery: Fire Suppression Ditch project (Zephyr project) at the Dredging Summit & Expo '19 June 4-7, 2019, in Chicago, IL.
The Zephyr project successfully remediated the wetlands, including dredging and restoration, at the former Zephyr Oil Refinery site, which is located along the north branch of the Muskegon River within the Muskegon Lake Area of Concern (AOC), in Muskegon, Michigan.
The Zephyr project, which was funded by the Great Lakes Legacy Act, won the dredging category.
The winners included teams led by New York based Sevenson Environmental Services (SES) for construction services, and Maryland-based EA Engineering, Science, and Technology, Inc, for design services. Since 2015, ECT has served as a subconsultant to SES as a part of their five-year long contract for the Great Lakes National Program Office Construction Services (GLNPOCS) with the U.S. Environmental Protection Agency.
On the Zephyr project, ECT partnered with Wildtype and Michigan Wildflower Farm to execute the native planting and seeding components of the restoration design following the sediment remediation activities. In total, the design included the installation of more than 220 native trees and shrubs, more than 13,600 wetland herbaceous plugs, and 2.25 acres of native seeding. ECT will continue to manage and maintain the restoration areas through the 2020 growing season.
The ECT project team was led by Sanjiv Sinha, Ph.D., P.E., Patrick Williams, Patrick Judd, PLA, and Lauren Edson, EIT.