Key leadership hire accelerates the firm's continued expansion with federal clients and projects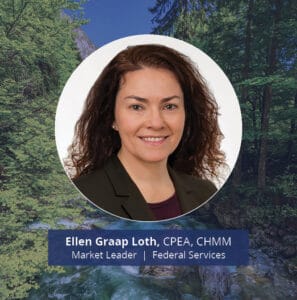 February 10, 2022 (Gainesville, FL) – ECT announces the hiring of Ellen Graap Loth, CPEA, CHMM to lead and diversify the firm's federal services division as well as support strategic pursuits and initiatives in key federal markets such as infrastructure, natural resources, sustainability, remediation, and compliance.
"The addition of Ellen to our growing federal division is exciting," said President and CEO Bobbi Westerby. "Her knowledge of the market combined with her technical and management expertise promises to create value for the clients and agencies we serve while diversifying our overall portfolio of work."
Throughout her career as a consultant, Ellen has guided her clients across complex regulatory landscapes  to identify best practices for maintaining compliance as well as measuring and improving performance across a wide range of environmental, social, and economic metrics.
Prior to joining ECT, she served as a senior principal and project consultant on a wide variety of projects under contracts with U.S. Government agencies as well as commercial, industrial, and municipal clients. Her technical expertise includes environmental impact analysis; environmental compliance and auditing; sustainability and performance planning and monitoring; sustainable infrastructure assessments; and environmental management systems planning, implementation, and auditing.
Ellen holds a Master of Natural Resources degree from Virginia Tech and  a BS in Natural Resources from Cornell University. She is a Certified Professional Environmental Auditor (CPEA) and a Certified Hazardous Materials Manager (CHMM). Based in Charlottesville, Virginia, Ellen serves on the Board of Directors of Resilient Virginia, a non-profit organization dedicated to advancing resilience planning through community engagement.