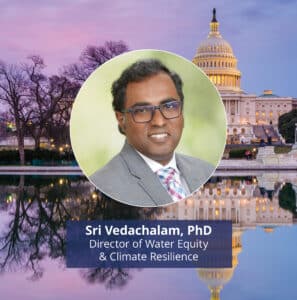 New role strengthens commitment to progressive infrastructure and community solutions
June 30, 2022  (Ann Arbor, Michigan) – Sri Vedachalam, PhD, recently joined ECT as the Director of Water Equity & Climate Resilience. This new position signals the firm's continued commitment to advising its public and private sector clients on community equity initiatives and resilient, high-performance infrastructure. In this role, Sri focuses on consulting with public and private sector clients on water system solutions, and on increasing opportunities for communities to practice more equitable environmental and water quality practices and to envision and design solutions with resiliency and climate adaptation in mind.
"Sri's expertise with policy and planning projects, and strong network of collaborators makes him a valuable asset to our clients, particularly those addressing complex topics with limited resources," said Sanjiv Sinha, PhD, PE, senior managing director of ECT's Water Resources division. "It is an exciting time for communities seeking progressive change and we want to help them make the right decision to achieve real, long-term value for all stakeholders and the environment they manage."
As an interdisciplinary policy and research expert in the areas of water resources management, planning and financing, Sri brings valuable knowledge and relationships from his career-long commitment to solving water resource challenges within a host of non-profit thinktanks such as the Environmental Policy Innovation Center (EPIC), the Northeast-Midwest Institute, and the New York State Water Resources Institute at Cornell University.
His contributions to-date include working on issues such as lead in drinking water; agricultural contamination and the role of conservation; improving water quality communication to the public; and financing of infrastructure through federal programs such as the State Revolving Fund (SRF) and Water Infrastructure Finance and Innovation Act (WIFIA). Sri has also interacted with and provided advice to Congressional offices on water policy issues and legislative proposals.
Prior to joining ECT, Sri was the Director of Water Equity for the Washington DC-based EPIC, where he led a spectacular growth of the organization's water policy work that enabled communities to accelerate their environmental progress. He holds a Ph.D. in Environmental Science from The Ohio State University; has dual M.S. degrees in both Agricultural, Environmental and Developmental Economics and Mechanical Engineering from The Ohio State University; and a B.E. in Mechanical Engineering from University of Madras, India. He lives in Northern Virginia and has been the recipient of industry recognitions such as his recent inclusion on the 2022 Top 10 Young Professionals ranking by Water & Wastes Digest.
Sri joins ECT's existing Water Resources practice, providing engineering, water quality, compliance, and sustainability expertise operating from 25 states nationwide. The team focuses on adaptive policy and design in the ecosystem restoration and green/grey stormwater arenas, as well as advancing climate justice, water equity, infrastructure and compliance strategies across multiple stakeholders, municipalities, and public-private partnerships.