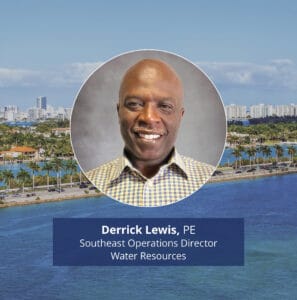 Leadership in stormwater management, resiliency, and adaptive infrastructure
May 25, 2022 (Gainesville, Florida) – ECT hired Derrick Lewis, PE as Southeast Operations Director for the firm's Water Resources division. Based in south Florida, Derrick will accelerate the team's efforts in the areas of resiliency planning, adaptive infrastructure, and flood risk management while strengthening its stormwater, permitting, and overall water resources engineering practice.
With 25 years of experience, Derrick has developed a significant portfolio with the Florida Department of Transportation, supporting major projects through infrastructural design and permitting and participation on technical advisory councils. He previously led a Hydraulics and Resiliency division in south Florida while also managing a successful municipal practice.
"Derrick has the proven expertise to tackle today's infrastructure challenges. South Florida leads the nation in climate adaptation projects and his hands-on experience is very valuable to our clients," said Sanjiv Sinha, PhD, PE, senior managing director of ECT's Water Resources division. "In addition, the energy he brings to his team and clients is refreshing, collaborative, and productive."
Derrick joins ECT's existing water resources team, providing engineering, water quality, compliance, and sustainability expertise operating from seven offices in the Southeast and 25 states nationwide. The group focuses on adaptive policy and design in the ecosystem restoration and green/grey stormwater arenas, as well as advancing climate justice, water equity, infrastructure and compliance strategies across multiple stakeholders, municipalities, and public-private partnerships.
Prior to joining ECT, Derrick held a leadership role with a national consulting firm. He holds his master's degree in Transportation Engineering from Florida International University and a bachelor's degree in Civil Engineering from the University of Central Florida. Derrick is a licensed professional engineer in the state of Florida and is active with the American Society of Civil Engineers and the American Public Works Association.